So here we are: ski season is in full swing and you've probably already found those perfect ski-goggles. Chances are you've invested in some high quality, technologically advanced eyewear for the slopes. After all, you only want the best for your eyes, right? We've gathered some tips for you that will ensure your ski goggles stay in top shape for several seasons. It's easier than you think!
tip #1: Clean them carefully
Especially in harsher weather conditions, your ski goggles are bound to get some snow, rain water or ice on their outer lens. This can obstruct your vision and make them less effective as you ride down the slopes. It can get quite annoying, but make sure to stay patient and clean the outer lens properly! Be gentle. You can use a microfibre cloth or the bag that the ski goggles came in, but only after shaking off the snow and allowing the lens to dry on its own. Refrain from using your gloves or jacket sleeve to wipe the lens, no matter how convenient it might be. It would almost definitely scratch the outer lens' surface – you don't want that.
tip #2: With the inner lens, less is more
Meaning that ideally, you should just leave it alone. Ski goggles commonly have an anti-fog coating from the inside, especially the hi-tech models like Oakley ski goggles. This could be damaged by you attempting to clean it – so leave that microfibre cloth alone this time. Even if some snow gets to the inside of your goggles, shake it off and let it dry on its own. Anything else would damage the anti-fog coating, which was probably part of the reason why you bought those ski goggles, right?
tip #3: Be smart with storage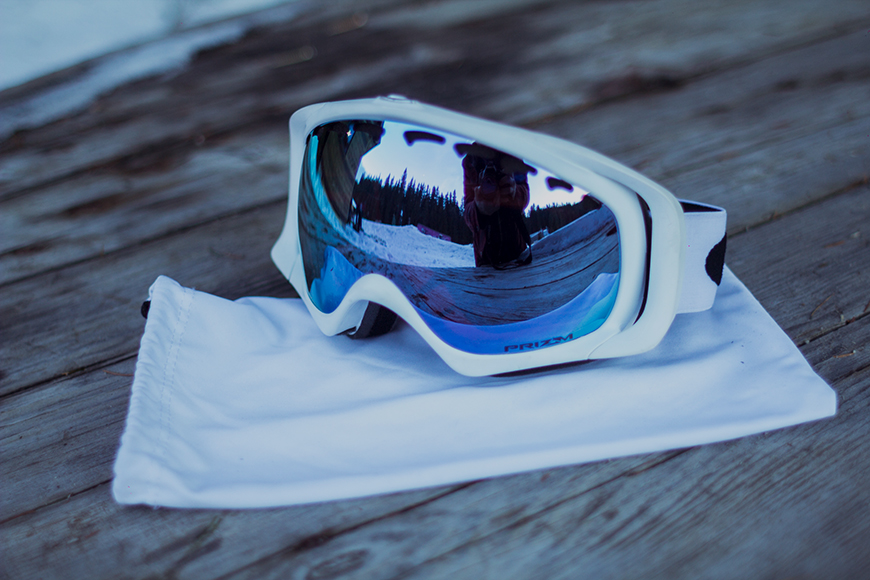 Your ski goggles almost definitely came with a storage bag (especially if you bought them through the eyerim e-shop). Don't be afraid to use it! Whenever you're not wearing the ski goggles, make sure to put them in their specifically designed storage bag. Furthermore, a lot of us have the tendency to leave ski goggles overnight in the car with the rest of our equipment. Ski goggles, however, are not the same as your snow boots. If you don't want them to get scratched or foggy, store them at room temperature – you can thank us later.
tip #4: Invest in the best
Every year we see some crazy weather on the slopes. What's more, you probably want to enjoy the slopes regardless of the weather conditions, right? For the best possible skiing or snowboarding experience, don't be afraid to invest in a good quality pair of ski goggles. Especially if you want them to last for more than just a single season. There are so many different models out there, specified to weather conditions and every wearer's needs. uvex provide a wide variety of extremely durable, hi-tech lenses. Bolle ski goggles prepare you even for the harshest of weather conditions, and Cébé make cleaning easier with their ventilated lenses. It may seem like an investment, sure, but wait until you try them out and get to experience the great technologies all our favourite winter eyewear companies are coming up with!
See, we told you it would be simpler than you think! These tips are basically all you need to ensure that your ski goggles stay clean, scratch free and good as new for many more winter seasons to come. If you still haven't found that perfect pair, maybe reading about the top 5 ski goggles trends for this winter season will help. Now go and rock the slopes with clear, fog-free vision whilst you can!