Oakley is one of the leaders in sport eyewear offering some of the best sunglasses you can own. When you invest in a pair or two, you naturally want to make sure you're buying the real deal, especially if you're shopping online. Follow this guideline to distinguish fake Oakley from the genuine.
1 Quality at first glance
If you hold your new Oakley in your hands, they should feel of a quality weight. Hinges should be solid enough and prints on the temples should look of high-quality if you take a closer look at them.
2 Check content
Majority of Oakley sunglasses come with the following:
Retail box
New Oakley sunglasses are packed in a branded retail box. Carefully check all images and prints on the packaging - they should match those used officially by Oakley. This box also includes all production details, e.g. manufacturer information, barcode, model name, frame and lens description. All the information on the box should match those on the sunglasses that are inside.
Case and cleaning cloth
Genuine Oakleys always come in a high-quality hard case or microfiber pouch. They both usually include Oakley logo, however, its absence doesn't necessarily indicate that you have fake Oakleys in your hands. Cleaning cloth is usually included inside the hard case as well. In case of pouch, however, cleaning cloth is not included for a simple reason - pouch itself serves as cleaning cloth due to its microfiber material that it's made of. Always check the quality of the case or pouch - if it looks to be cheap, you may look for other indicators to confirm if you purchased the authentic pair.
Paperwork
Today, most designer brands include a certificate of authenticity, warranty card, or any material similar to that. Oakley's certificate of authenticity normally unfolds into a larger document with 'O' on the top of both sides. This certificate is probably the most explicit indicator of genuine Oakley product. I advise you to go through the content - any typos or formal errors may indicate fake.
3 Oakley logo presence
Authentic Oakley logo is presented on many different spots including temple or packaging.
Case - Pouch
Symbol 'O' is usually present on the top of the hard case, or stitched to the corner of the pouch.
Temple
Oakley logo is also visible on the temple and it comes in 2 variations - simple 'O' sign that is embedded into the frame, or 'Oakley' sign. Check if the 'O' letter shape is consistent with the official logo. If it's painted on, or even missing, it's highly unlikely that you hold an authentic pair of Oakleys in your hands.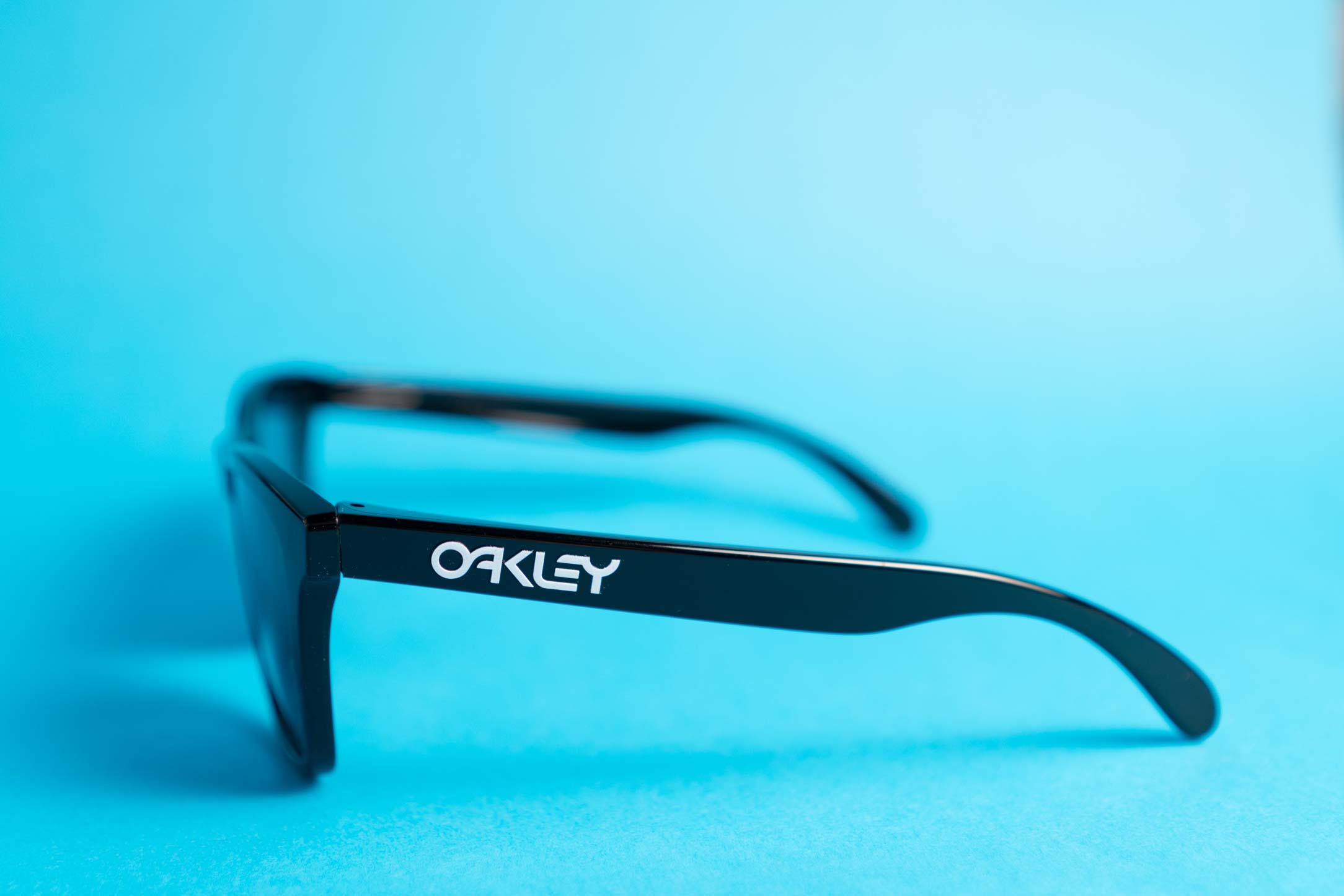 4 Check temples
Hold your Oakley and have a closer look. The inner side of the left temple contains a model name, number and sizing details. All of these details should match the information on the retail box. Moreover, any inconsistencies, such as typos, error in font size, or spacing may again indicate fake item.
Majority of Oakley frames made of plastic are manufactured from pre-dyed plastic, which basically means that if you were to break your Oakleys into two, the inner colour of the plastic should not differ from the outer one. This is, however, not 100% true for all Oakley products since they are produced from other materials as well.
5 Check lenses
Etching
Not all Oakley sunglasses feature a word or pattern etched on the lens, but some of them do. I, however, decided to include this step here in case you come across a model featuring a pattern that you're not familiar with and you're wondering if it's supposed to be there or not.
There are Oakleys that have some styles with 'Oakley' sign etched near the nose bridge. Those models that include Polarized or Prizm trademarks include respected words etched in capital letters on one of the lenses. Moreover, Oakley sometimes releases special editions, like they for example did with a ribbon for breast cancer awareness.
Sticker
Similarly to Ray-Ban, if you get a pair of Oakley sunglasses with a sticker on the lens, there's a pretty good chance that they're fake. On the other hand, you should know the difference between a sticker and a static cling-type 'P' sticker that Oakley puts on products with polarized lenses. These are, however, not adhesive stickers that are glued to the surface of the lens used on many replicas.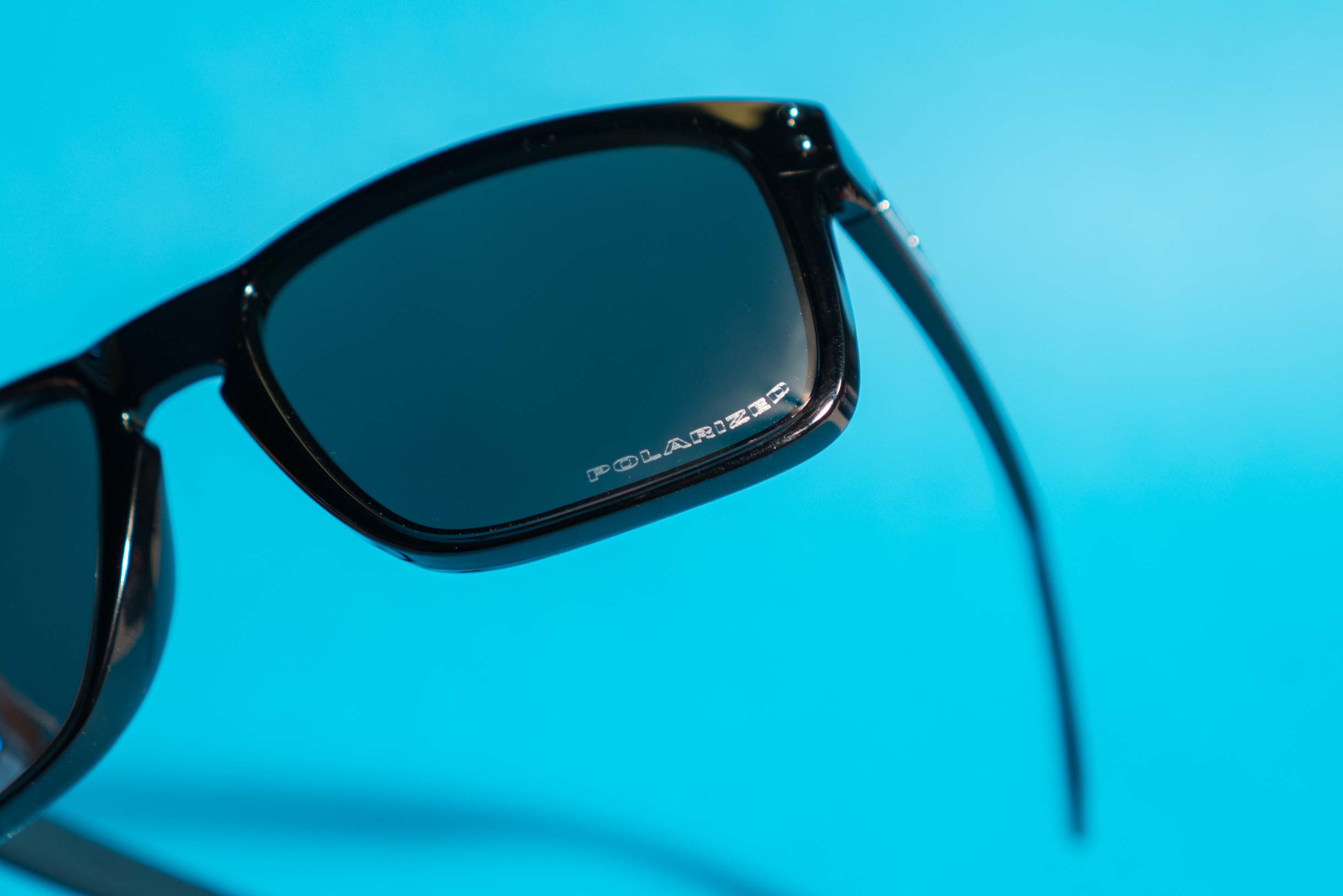 Please note that this guideline doesn't guarantee authenticity and Oakley may make any changes to their manufacturing processes. We will, however, always make sure to update our guidelines with any changes coming to keep you posted! Check our Oakley collection on eyerim eshop and try some via Magic Mirror.